The University of Iowa American Sign Language Club
Organized and run by students on campus, everyone is welcome to attend: hearing or deaf, student or non-students, beginning or fluent signer. Anyone from the Deaf Community is welcome. For information, email aslclub@uiowa.edu.
Peer Tutoring for ASL Students
Camryn Carpenter (Meet Camryn)
Hours: Mondays and Wednesdays, 12:30pm - 3:30pm
Phillips Hall, 120C 
Zoom Link  Schedule an Appointment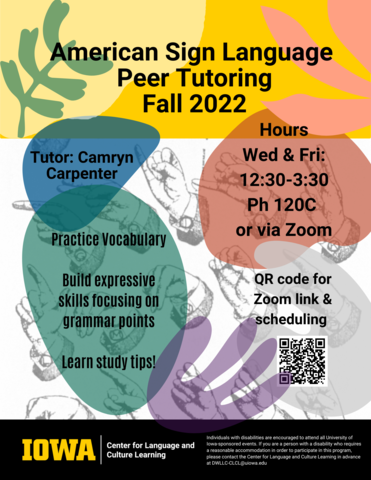 Fall 2022 Conversation Hours
Organized by faculty, register and attend conversations hours offered weekly! Click here to see hours and how-to register!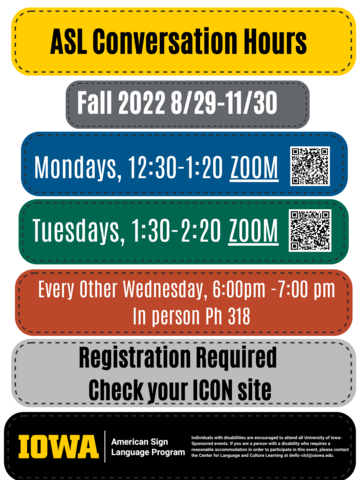 Student Ambassador Program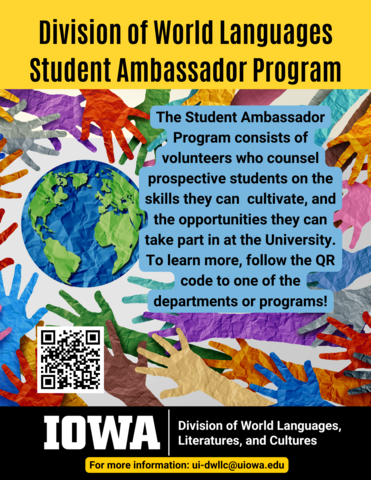 State and Local Instructional Programs Organizations and Resources
National and Worldwide Organizations and Resources
Deaf Culture and Deaf/ASL News Resources
Deaf Education Resources
Other links
ASL/English Interpreting
The American Sign Language Program is in no way responsible for, nor has control of, the content of any external websites nor do we endorse any commercial products, services or websites. You should always research any opportunity thoroughly.